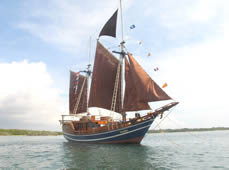 Our Feliana Vessel are stationed in Labuan Bajo, a beautiful sea port and the capital city
of West Flores, Indonesia. Our staff have many years of experience in Komodo, Flores, Sumbawa,
Lombok and Bali and are well equipped to provide you with accurate information and find the right
expedition & leisure trip to suit your needs. We selected leisure cruises in Komodo National Park to meet your desires to explore world class expeditions. Charters to Flores, Alor, Timor, Sumba, Sumbawa, Lombok and few other islands in the eastern part of Indonesia are available upon request.
Enjoy professional worldclass expeditions on our brand new Vessel Feliana in the tropical areas of Indonesia - it's a memory for a lifetime!
FELIANA Komodo Leisure and Expedition Cruises - 2 Days/1 Night
Schedule / Season 2006
Please note: We are also equipped for diving on request on our Feliana Boat!!
PRICE PER PERSON IN US DOLLAR
MINIMUM PARTICIPANTS: 4 Persons
STARTING PORT: Labuan Bajo at 14:00 hrs
ENDING PORT : Labuan Bajo at 14:00 hrs
Price per Person: USD 125.00 - 01 Apr 2006 to 31 Mar 2007
PRICE INCLUDES:
Transfers in Labuan Bajo, 1 x Night on Sharing Cabin, 4 x Meals, Shore Excursions, Coffee/Tea & Aqua, Temporary Personal Insurance

PRICE EXCLUDES:
Personal expenditure, Return flight Denpasar-Labuan Bajo-Denpasar @ USD 150.00, Airport Tax @ USD 4.00, Soft Drinks, Juices, Alcoholic Drinks, Transfers in Bali, Camera tax @ IDR 25.000 and Handy Cam tax @ IDR 100.000 in Komodo
From Januar
till December 2006
Every: Tuesday, Wednesday, Friday & Sunday
Komodo National Park
2 Days/ 1 Night
FELIANA Komodo Leisure Cruise - 3 Days/2 Nights
Schedule / Season 2006
PRICE PER PERSON IN US DOLLAR
MINIMUM PARTICIPANTS: 4 Persons
STARTING PORT: Labuan Bajo at 14:00 Hrs
ENDING PORT : Labuan Bajo at 14:00 Hrs
Price per Person: USD 190.00 - 01 Jan 2006 to 31 Mar 2006
Price per Person: USD 250.00 - 01 Apr 2006 to 31 Mar 2007
PRICE INCLUDES:
Transfers in Labuan Bajo, 1 x Night on Sharing Cabin, 4 x Meals, Shore Excursions, Coffee/Tea & Aqua, Temporary Personal Insurance

PRICE EXCLUDES:
Personal expenditure, Return flight Denpasar-Labuan Bajo-Denpasar @ USD 150.00, Airport Tax @ USD 4.00, Soft Drinks, Juices, Alcoholic Drinks, Transfers in Bali, Camera tax @ IDR 25.000 and Handy Cam tax @ IDR 100.000 in Komodo
From Januar
till December 2006
Every: Wednesday, Friday & Sunday
Komodo National Park
3 Days/ 2 Nights

For further information about the Feliana expedition trips please