When you enter an PADI Internship Bali with Absolute Scuba Bali, our staff understand that you will be working to become a highly qualified dive professional.
From the beginning you will be using the PADI Instructor 's manual; you will learn the correct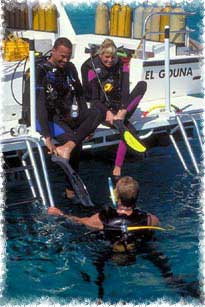 Standards and Procedures, performance requirements of each PADI Scuba course you undertake. You will be accepted as a staff in training, and will be exposed to operations PADI Dive Center bali
PADI Internship Bali you will receive special seminars such as
Customer service

Equipment Sales & Servicing

Compressor Service & Repairs

Scuba cylinder visual inspection & service
These courses you will receive, will make you stand out from the rest
These PADI Internship Bali are for serious divers who wish to be qualified , not certified. You will be encouraged to learn much more than just the basics. You will be expected to dive safely and conservatively and to interact with our guests in a professional manner.
In all, it is a lot of work, but it is also a great fun. We have staff from England , Germany, Japan , Indonesia , Australia and on hand to pass on their knowledge and experience, all are willing to guide you along your journey to becoming a diving professional.
Gain the PADI professional DiveMaster qualification during your 3 month diving internship. Dive masters and Instructors work together as a team to provide safe, fun and effective diver training. The latest PADI standards allow PADI Divemaster to teach some portions of the PADI Open water Dive course.

Also you will receive:
Use of SCUBA Equipment (excluding scuba cylinder). That is BCD, Regulator, Wetsuit, Mask, Snorkel, Fins and Boots.

PADI Manuals and training aids required to obtain the Divemaster rating.

ALL PADI membership Fees (excluding Insurance)

Minimum of 60 dives.
Contact us for full pricing information about this internship .
Already have your Assistant Instructor certification and now you realize want to become a PADI Open Water SCUBA Instructor ; then PADI Internship Bali is for you. We will commence your training all the way to PADI Instructor Development Course (IDC) , in one of the most bio-diverse aquatic worlds.
Your PADI IDC Bali includes:
All required PADI materials.

Excellent rates on diving equipment.

Two days intensive PADI IDC preparation course including water skills- practice and dive theory pre-assessment. Additional preparation days are free.

PADI's new IDC curriculum.

Job Placement Service.

Personal attention and first class professional organization.

Relaxed 9-day PADI IDC program

Tanks & weights during the entire PADI IDC/IE and all pre/post PADI IDC courses.

Your PADI Course Director and PADI IDC Staff present throughout the PADI IE to assist you.

LEARN TO BE A PADI INSTRUCTOR AND GET MORE KNOWLEDGE THAN REQUIRED TO PASS THE IE.
When you do your part and we do our part, we guarantee that you will pass the IE or your 2nd IDC will be for FREE!!!!!*

Recent changes to the PADI IDC program has divided the program in two parts:
Part 1 : The PADI Assistant Instructor 3 - 5 days

Part 2 : The PADI Open Water Scuba Instructor 5 - 7 days
This new revised AI curriculum is now the first 3 days of the IDC and the last 4 days is now called the OWSI (Open Water Scuba Instructor) program.

New Course Materials
PADI IDC Candidate Workbook has been changed and the PADI Confined water and PADI Open water lesson plan slates have been updated and candidates require their own personal copy, complete with PADI Hologram for attendance to the PADI IE.

Candidates come away better prepared to offer complete programs that will attract future dive customers.
Teaching children with more focus on youth diving and how to plan promotions to youth and family.

Prescriptive teaching and how to make more effective use of available media and training materials

How to organize and conduct the Peak Performance Buoyancy- and Project Aware Specialties
We understand the importance of using only the latest educational materials. The candidates must now complete all course knowledge reviews prior to the start of the IDC. Candidate knowledge development presentations (academic presentations) now include
To find out more specific information about our Divemaster Internship programs, please contact us .